Cleaning Mistakes that Could Be Costing Your Dundee, Michigan Business Money
You know that it's important to keep your workspace clean. Hiring a commercial cleaning service costs money, and you may wonder if it's worth it. However, there are several cleaning mistakes that could actually be costing your company money, and the solutions provided by Quality Cleaning Service can help save you both time and money in the long run.
Mistake 1: Expecting Your Employees to Take on a Cleaning Role
The economy is tough, and budgets are tight. Some businesses in Dundee, Michigan may look at the cost of a commercial cleaning service and wonder if it makes sense to instead have their employees take over the cleaning tasks.
There are many reasons this is a bad idea – decreased employee morale, ineffective cleaning practices – but it will also end up costing your business more money than you realize. Of course, employees should be responsible for keeping their workspaces uncluttered. It's fair to ask employees to rinse out their own coffee mugs, keep spoiled food out of the communal fridge, and clean up after themselves. But when you expect your employees who have their own jobs and responsibilities within your company to handle bathroom cleaning, vacuuming, and disinfecting high-touch surfaces, you aren't saving the money you think you are.
When you take time out of your employees' day to handle specialized cleaning tasks, you are significantly decreasing their productivity. When your employees aren't as productive, your business isn't as profitable. Combine that with low morale and employee dissatisfaction along with ineffective cleaning practices and your corner-cutting can lead to increased illness, injury, and absenteeism, and you definitely won't save any money in the big picture.

Mistake 2: Ignoring Trash, Spills, and Stains
Some trash cans in common areas fill more quickly than others. If a trash bin begins to overflow, it can cause a much bigger problem. If trash bins aren't attended to as needed, they can begin to attract rodents, insects, and mold or mildew growth, all of which can cause much bigger problems.
Spills happen, and if you have a patterned industrial carpet, some employees may simply do a quick dab with a paper towel and hope that the stain blends into the carpet. Although these small mistakes seem harmless, over time they can lead to long-term damage to carpets, subfloors, and upholstery. This will then cost you money for repairs or replacement.
The solution is to stay on top of these minor issues with daily cleaning, or even better, a day porter. Having a day porter in the building to handle the day-to-day issues right away can save you time and money overall.
Mistake 3: Neglecting Hard to Reach Areas
Out of sight, out of mind. While this may seem harmless in theory, neglecting hard to reach areas will almost certainly cost your company money down the road. Hard to reach areas can be the dirtiest in the workspace and lead to accumulations of germs, allergens, and even worse – infestations. Hiring a commercial cleaning service will ensure that no surface goes untouched and every part of your workspace – even the spaces you can't see – will be clean and sanitized.
Mistake 4: Using the Wrong Cleaning Supplies or Cleaning with Ineffective Equipment
Many offices will keep a standard bottle of all-purpose cleaner and a container of cleaning wipes in the break room or bathroom to handle urgent needs. Your office may have a mop or a vacuum, but likely they are a budget friendly purchase for quick pick-ups. While these may work in a pinch, they are not a good solution for regular commercial cleaning for your Dundee, Michigan business. Harsh chemicals don't equal better, and can actually cause damage to both your health and the environment. You need to use the right product for each job, and you need to make sure you are using a product that is effective without causing chemical buildup or creating an unsafe indoor air quality situation.
When you hire a commercial cleaning service, you get access to high-quality cleaning products and top of the line equipment, such as vacuums with HEPA filters, designed to improve indoor air quality. Quality Cleaning Service is committed to using the best products available that are also eco-friendly, which will reduce your environmental footprint and keep your indoor air quality safe for all your employees and guests.
Mistake 5: Sticking to Surface Level Cleaning and Skipping Disinfection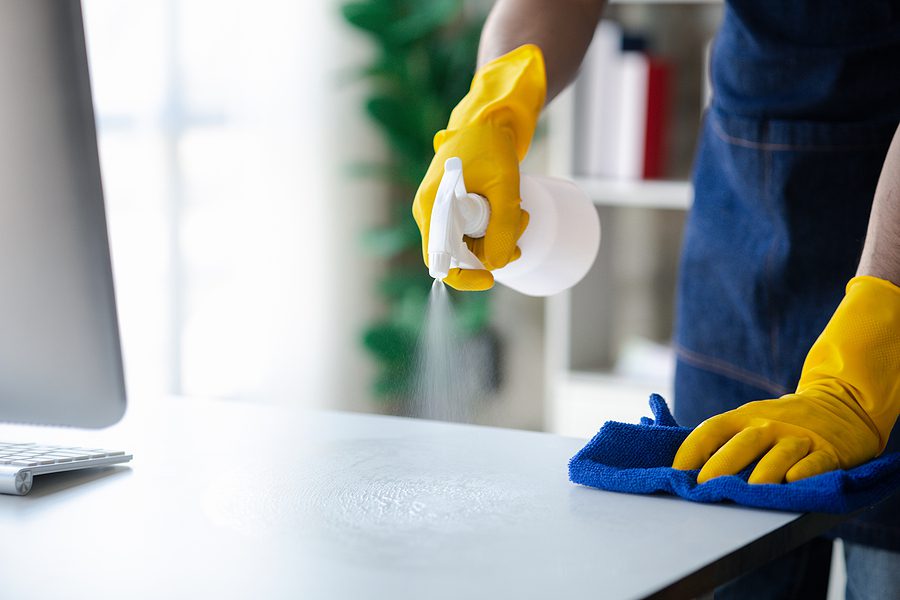 Surface level cleaning may make things look nice, but not everything that appears to be clean actually is. To keep your Dundee, Michigan business truly clean, you need to make sure that your space, especially the high-touch areas, are regularly sanitized. Kitchens, bathrooms, breakrooms, and shared office equipment such as copiers, are vulnerable to the "looks clean but isn't" problem.
In a post-pandemic world, we all know that germs can cause significant disruptions to businesses. Because of this, it's important to take the time to develop a plan for disinfecting all areas. Quality Cleaning Service can offer disinfection as part of your regular cleaning schedule with our electrostatic service, or we can provide day porters who can handle the daily disinfection tasks.
Mistake 6: Working Without a Plan
If you wait until an area is noticeably dirty before you think of cleaning it, you are already looking at a more expensive job. The biggest office cleaning mistake is not having a plan. Without a plan, nothing gets done effectively. When you have your initial consultation with Quality Cleaning Service, make a plan for regular cleaning, but also for bigger jobs such as upholstery cleaning, carpet cleaning, and deep cleaning. If you avoid these until it's too late, you may be looking at carpets, furniture, and office equipment that needs replaced instead of cleaned.
When you practice preventative maintenance, you can avoid costly repairs and replacements down the line. We know it's hard to stay on top of these tasks, which is why when you work with our service, we take care of the scheduling for you. We know bigger jobs can be disruptive to your workday, so we offer flexible scheduling so these jobs can get done without a negative impact on your business.
As a BBB certified business and part of ISN, a safety membership required by some of our valued customers, Quality Cleaning Service can help improve your Dundee, Michigan workspace with regularly scheduled comprehensive commercial cleaning services. If you've been thinking about hiring a commercial cleaning service for your company, now is a great time to get on our schedule, so call us today!
See What Our Clients Have to Say About Us
Quality Cleaning of Northwest Ohio has truly exceeded my expectations when it comes to professional cleaning services. I've had the pleasure of using their services for both my home and office, and they consistently deliver exceptional results. From the moment I contacted them, their customer service was outstanding. They were prompt in responding to my inquiries, and they took the time to understand my specific cleaning needs. Their team was friendly, professional, and respectful throughout the entire process.
Testimonial #3
I would like to share my wonderful experience with Quality Cleaning Service of Northwest Ohio for their exceptional commercial cleaning services. As a business owner, maintaining a clean and presentable workplace is of utmost importance to me, and Quality Cleaning Service exceeded my expectations in every way. One thing that truly impressed me was their commitment to using high-quality cleaning products and equipment. They ensured that our office space was not only clean but also safe and healthy for our employees and clients. Their eco-friendly approach and use of non-toxic solutions gave me peace of mind, knowing that we were contributing to a cleaner environment. Another aspect that sets Quality Cleaning Service apart is their well-trained and friendly staff. They were punctual, courteous, and respectful of our workspace. They worked discreetly and diligently, allowing us to carry on with our daily operations without any disruptions. Overall, I cannot recommend Quality Cleaning Service of Northwest Ohio enough. Their dedication to providing top-notch commercial cleaning services, their use of eco-friendly practices, and their attentive and professional staff make them a standout choice for any business in need of reliable cleaning services. They have truly become an integral part of our office maintenance, and I look forward to continuing our partnership in the future.
Testimonial #1
What sets Quality Cleaning Service apart is their exceptional staff. Each member of their team is skilled, well-trained, and consistently exhibits a strong work ethic. They arrive promptly and efficiently tackle every cleaning task, leaving our workspace immaculate and inviting. I can confidently say that Quality Cleaning Service of Northwest Ohio has become an invaluable partner in maintaining the cleanliness and hygiene of our commercial space. I highly recommend their services to any business owner in need of top-notch commercial cleaning. They have certainly earned my trust and loyalty.
Testimonial #2
Recent Blog Posts
A clean and well-maintained commercial space is the cornerstone of a successful business. It not only enhances the […]
Tile flooring is a popular choice for its durability, versatility, and aesthetic appeal. However, to keep tile floors […]
Carpets bring warmth, comfort, and style to any space, but over time, they accumulate dirt, stains, and allergens […]