The Ultimate Guide to Tile Floor Care: Maintaining Beauty and Durability
Tile flooring is a popular choice for its durability, versatility, and aesthetic appeal. However, to keep tile floors looking their best and prolong their lifespan, proper care and maintenance are essential. In this comprehensive blog post, we will delve into the world of tile floor care, covering everything from routine cleaning to addressing stubborn stains and ensuring long-term durability.
Understanding Different Types of Tile Flooring
Explore the various types of tile flooring, such as ceramic, porcelain, natural stone, and vinyl tiles. Understand the unique characteristics and maintenance requirements of each type to ensure appropriate care.
Regular Cleaning and Maintenance
Learn the importance of regular cleaning and maintenance to prevent dirt buildup, scratches, and damage. Discover the best practices for sweeping, vacuuming, and mopping tile floors, as well as maintaining grout lines.
Addressing Stubborn Stains and Spills
Find effective solutions for removing common stains and spills on tile floors, including food and beverage stains, oil and grease stains, and grout discoloration. Explore DIY remedies and specialized cleaning products to restore the pristine look of your tiles.
Grout Cleaning and Maintenance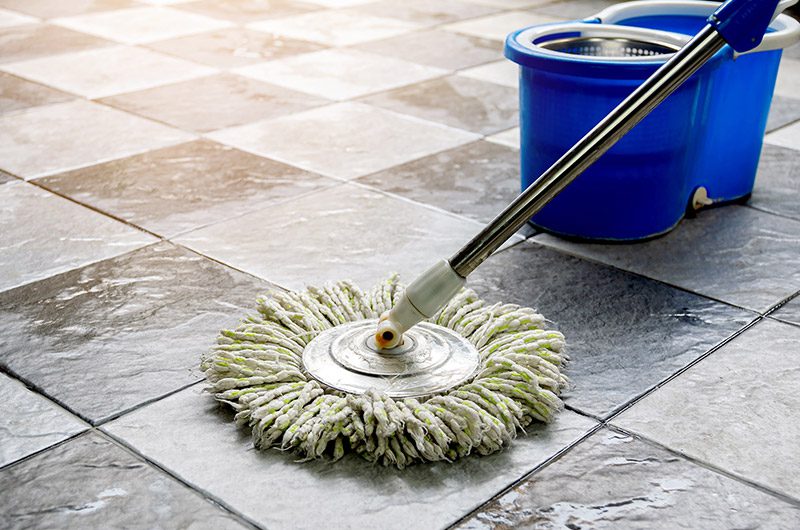 Grout plays a vital role in tile floor stability and aesthetics. Learn how to clean and maintain grout lines, including regular cleaning, stain removal, and sealing. Discover tips and tricks to keep grout looking fresh and prevent mold and mildew growth.
Protecting Tile Floors from Damage
Prevent unnecessary wear and tear on tile floors by taking precautions. Explore measures such as using doormats, furniture pads, and avoiding harsh chemicals or abrasive tools. Understand the importance of regular inspections and repairs to address any damage promptly.
Deep Cleaning and Restoration
Periodically, tile floors may require deep cleaning and restoration to remove embedded dirt, stains, or residue. Explore professional cleaning techniques such as steam cleaning, buffing, and professional grout cleaning to revitalize the appearance of your tile floors.
Sealants and Finishes for Enhanced Protection
Discover the benefits of applying sealants and finishes to tile floors. Understand the different types of sealants available, including topical sealers and penetrating sealers, and how they can enhance the durability and longevity of your tiles.
Tips for Long-Term Tile Floor Care
Wrap up the blog post with practical tips for long-term tile floor care. This includes maintaining a regular cleaning schedule, promptly addressing spills and stains, avoiding harsh chemicals, and seeking professional assistance when necessary.
Proper care and maintenance are crucial for preserving the beauty and durability of tile floors. By following the tips and techniques outlined in this blog post, you can ensure that your tile floors continue to shine for years to come. Embrace a proactive approach to tile floor care, and enjoy the long-lasting beauty and elegance that tile flooring brings to your space.
See What Our Clients Have to Say About Us
I would like to share my wonderful experience with Quality Cleaning Service of Northwest Ohio for their exceptional commercial cleaning services. As a business owner, maintaining a clean and presentable workplace is of utmost importance to me, and Quality Cleaning Service exceeded my expectations in every way. One thing that truly impressed me was their commitment to using high-quality cleaning products and equipment. They ensured that our office space was not only clean but also safe and healthy for our employees and clients. Their eco-friendly approach and use of non-toxic solutions gave me peace of mind, knowing that we were contributing to a cleaner environment. Another aspect that sets Quality Cleaning Service apart is their well-trained and friendly staff. They were punctual, courteous, and respectful of our workspace. They worked discreetly and diligently, allowing us to carry on with our daily operations without any disruptions. Overall, I cannot recommend Quality Cleaning Service of Northwest Ohio enough. Their dedication to providing top-notch commercial cleaning services, their use of eco-friendly practices, and their attentive and professional staff make them a standout choice for any business in need of reliable cleaning services. They have truly become an integral part of our office maintenance, and I look forward to continuing our partnership in the future.
Testimonial #1
Quality Cleaning of Northwest Ohio has truly exceeded my expectations when it comes to professional cleaning services. I've had the pleasure of using their services for both my home and office, and they consistently deliver exceptional results. From the moment I contacted them, their customer service was outstanding. They were prompt in responding to my inquiries, and they took the time to understand my specific cleaning needs. Their team was friendly, professional, and respectful throughout the entire process.
Testimonial #3
What sets Quality Cleaning Service apart is their exceptional staff. Each member of their team is skilled, well-trained, and consistently exhibits a strong work ethic. They arrive promptly and efficiently tackle every cleaning task, leaving our workspace immaculate and inviting. I can confidently say that Quality Cleaning Service of Northwest Ohio has become an invaluable partner in maintaining the cleanliness and hygiene of our commercial space. I highly recommend their services to any business owner in need of top-notch commercial cleaning. They have certainly earned my trust and loyalty.
Testimonial #2