We take a thorough, streamlined approach to cleaning your tile floors.
1. Inspection
Our cleaning team will inspect your tile floors to determine the type of tile and grout and the level of dirt, stains, and other contaminants we will be tackling.
2. Sweeping and dry-mopping
We'll start by sweeping and dry-mopping the tile floor to remove any loose dirt, debris, and dust.
3. Wet-mopping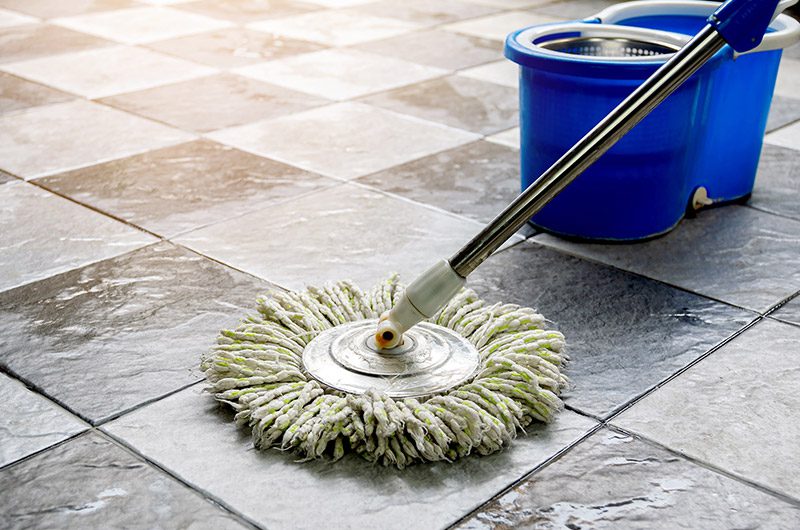 With a specialized tile cleaning solution and a wet mop, we get right to work cleaning your tile floors.
4. Scrubbing
Wherever necessary, our cleaning professionals use a machine or hand-held brush to scrub the tile floor, paying special attention to the grout lines. This helps loosen and remove dirt and stains that may be stuck on the tile and in the grout.
5. Rinsing
Next, we rinse the tile floor with clean water to remove any remaining cleaning solution or debris.
6. Drying
For a finished look and to prepare the tile floors for the sealant, our team uses a dry mop or towels to dry the tile floor if air-drying isn't an option due to humidity levels or to be considerate of your daily operations.
7. Sealing (optional)
The team may apply a sealant to the tile and grout to protect it from future stains and damage, depending on the traffic flow and flooring type of tile you have.
You can expect Quality Cleaning Service to effectively clean your public tile floors by removing dirt, stains, and other contaminants to leave your tile floors looking great. Regular professional cleaning services can help to extend the life of your tile floor, prevent slip-and-fall accidents, and create a clean and professional environment for visitors and employees.
If you're in need of professional tile floor cleaning for your commercial space, Quality Cleaning Service is here to provide a reliable and customized solution that can make a significant difference in the look and feel of your business. Reach out to us to schedule a free consultation and learn more about our comprehensive range of cleaning services.
With Quality Cleaning Service, you can trust that your tile floors will be left looking pristine and welcoming to your employees and customers alike. Our team is committed to providing excellent service to ensure that your commercial spaces are cleaned to the highest standards possible.
See What Our Clients Have to Say About Us
Quality Cleaning of Northwest Ohio has truly exceeded my expectations when it comes to professional cleaning services. I've had the pleasure of using their services for both my home and office, and they consistently deliver exceptional results. From the moment I contacted them, their customer service was outstanding. They were prompt in responding to my inquiries, and they took the time to understand my specific cleaning needs. Their team was friendly, professional, and respectful throughout the entire process.
Testimonial #3
What sets Quality Cleaning Service apart is their exceptional staff. Each member of their team is skilled, well-trained, and consistently exhibits a strong work ethic. They arrive promptly and efficiently tackle every cleaning task, leaving our workspace immaculate and inviting. I can confidently say that Quality Cleaning Service of Northwest Ohio has become an invaluable partner in maintaining the cleanliness and hygiene of our commercial space. I highly recommend their services to any business owner in need of top-notch commercial cleaning. They have certainly earned my trust and loyalty.
Testimonial #2
I would like to share my wonderful experience with Quality Cleaning Service of Northwest Ohio for their exceptional commercial cleaning services. As a business owner, maintaining a clean and presentable workplace is of utmost importance to me, and Quality Cleaning Service exceeded my expectations in every way. One thing that truly impressed me was their commitment to using high-quality cleaning products and equipment. They ensured that our office space was not only clean but also safe and healthy for our employees and clients. Their eco-friendly approach and use of non-toxic solutions gave me peace of mind, knowing that we were contributing to a cleaner environment. Another aspect that sets Quality Cleaning Service apart is their well-trained and friendly staff. They were punctual, courteous, and respectful of our workspace. They worked discreetly and diligently, allowing us to carry on with our daily operations without any disruptions. Overall, I cannot recommend Quality Cleaning Service of Northwest Ohio enough. Their dedication to providing top-notch commercial cleaning services, their use of eco-friendly practices, and their attentive and professional staff make them a standout choice for any business in need of reliable cleaning services. They have truly become an integral part of our office maintenance, and I look forward to continuing our partnership in the future.
Testimonial #1
Recent Blog Posts
A clean and well-maintained commercial space is the cornerstone of a successful business. It not only enhances the […]
Tile flooring is a popular choice for its durability, versatility, and aesthetic appeal. However, to keep tile floors […]
Carpets bring warmth, comfort, and style to any space, but over time, they accumulate dirt, stains, and allergens […]