Commercial and Industrial Cleaning Services in Swanton, Ohio
Industrial facilities and warehouses are among the most challenging spaces to clean. Although they aren't necessarily unhealthy, their size, complexity, and unique cleaning needs make them challenging to tackle. Many industrial facilities will have an internal team to cover basic issues, but hiring professional commercial cleaners in Swanton, Ohio is essential to keep your commercial or industrial facility functioning at its peak. 
How Does Industrial Cleaning Differ from Other Commercial Cleaning?
Cleaning and maintaining large complex spaces such as factories, warehouses, and manufacturing plants is often referred to as industrial cleaning, rather than simply commercial cleaning. The process of industrial cleaning involves cleaning and maintaining equipment, manufacturing floors, warehouse walls, and other surfaces to ensure optimal productivity and safety. Power washing, window services, and post construction clean up can also be considered part of industrial cleaning. Professional industrial cleaning will also provide specialized attention to high-traffic areas that often accumulate dirt and debris. A comprehensive commercial cleaning service in Swanton, Ohio who can handle industrial cleaning will also handle the other areas of the facility, such as office cleaning, restroom and breakroom cleaning, and whatever else is needed.  
Why is Industrial Cleaning Important?
When industrial facilities are not kept clean, there is a higher risk of accidents and injuries. Germs, bacteria, and viruses can also thrive in an environment that is difficult to keep clean, which will compromise the health of the employees. But beyond the health and safety of the employees, maintaining a clean environment will enhance the efficiency and productivity of the workers, which will result in a better bottom line for your Swanton, Ohio business.
Industrial Cleaning Service in Swanton, Ohio Improves Safety
When an industrial facility is not clean and well-maintained, it becomes a risky environment for the employees. Dust, dirt, and debris can find its way into the equipment in the industrial space, which can cause malfunctions that can seriously harm your employees. In addition, an industrial space that is not cleaned by professionals can become a breeding ground for germs and pathogens which will then increase illness among your employees. Hiring a professional commercial cleaning service means you are getting cleaners who understand the importance of safety. Every employee at Quality Cleaning Service is trained in industrial cleaning and can use the equipment and materials safely, lowering the risk of accidents and illness to your staff.
Hiring Professionals will Ensure Your Facility is in Compliance with Regulations
Most industrial facilities are subject to specific regulations from their industry regarding cleanliness, safety, and environmental impact. If your facility is found to be out of compliance with these regulations, you can face hefty fines, and even legal issues. Quality Cleaning Service understands the regulations of your industry and will ensure that your facility is clean. Not only will this lower the risk of being found out of compliance, but it will protect the reputation of your facility in the community.
Save Time and Money by Hiring a Professional Commercial Cleaning Service in Swanton, Ohio
The bottom line is important, and when budgets are tight, some facilities may balk at the upfront cost of a professional commercial cleaning service. You may think it's less expensive to hire in-house cleaners or to ask your employees to handle the cleaning tasks. However, outsourcing your industrial cleaning will not only save your employees time, but will also save your company money in the long term. In-house cleaners are expensive when you consider all the costs of employment, including salaries, benefits, and needing to keep all the cleaning products and equipment in-house. 
Having an industrial cleaning service in Swanton, Ohio is a form of preventative maintenance that will help minimize downtime and production loss, resulting in increased profitability. When you allow your employees to focus on their core operations and manufacturing roles in the facility instead of taking time out to handle industrial grade cleaning, your employees are contributing positively toward your company's bottom line. In addition, your company invests in the specialized equipment you need to do your job, but you may not have the means to invest in specialized industrial cleaning equipment. 
Professional industrial cleaners who are part of a large commercial cleaning service have access to the specialized equipment needed for cleaning large and complex spaces. This can include industrial-strength vacuums, steam cleaners, and power scrubbers that will target areas that are hard to reach and can remove tough stains and build up. The services that they offer go beyond basic cleaning and offer high-pressure washing and disinfection that will remove grime and contaminants.
Services Available for Day to Day Needs
When you hire a professional commercial cleaning service for your industrial space, you will likely want our team to come in during off hours so that the operations of your facility are not disturbed. However, there are cleaning situations that will arise during the workday that need immediate attention. Quality Cleaning Service offers a day porter service that can provide you with a team to handle the basic cleaning, such as restrooms, trash, and spills throughout the working day.
Increased Sustainability through Environmentally Friendly Products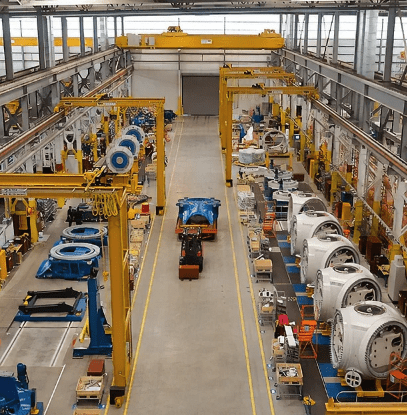 Sustainability in Swanton, Ohio industrial facilities is important. Quality Cleaning Service uses environmentally friendly cleaning products and methods that minimize the impact on the environment. This will help promote sustainability and will reduce your facility's overall carbon footprint. 
At Quality Cleaning Service, we understand that every facility is different. Rather than offering a standard cleaning plan, our highly trained and experienced industrial cleaners will create a customized plan tailored to the needs of your facility. As a BBB certified business and part of ISN, a safety membership required by some of our valued customers, we are confident we can provide the high-quality, reliable commercial cleaning service in Swanton, Ohio that you are looking for. 
With decades of industrial cleaning experience, we know it's important for your facility to be cleaned to the highest standards. It's why we offer additional services that go beyond routine cleaning. This can include things like high-pressure washing, disinfection, and deep cleaning of the floors with a flexible schedule that will work for you. We carry the necessary insurance and certifications to protect your business as well as ourselves, which can give you peace of mind that your cleaning can be done effectively and safely. If you're interested in learning more about our industrial cleaning services in Swanton, Ohio, schedule your consultation with us today.
See What Our Clients Have to Say About Us
I would like to share my wonderful experience with Quality Cleaning Service of Northwest Ohio for their exceptional commercial cleaning services. As a business owner, maintaining a clean and presentable workplace is of utmost importance to me, and Quality Cleaning Service exceeded my expectations in every way. One thing that truly impressed me was their commitment to using high-quality cleaning products and equipment. They ensured that our office space was not only clean but also safe and healthy for our employees and clients. Their eco-friendly approach and use of non-toxic solutions gave me peace of mind, knowing that we were contributing to a cleaner environment. Another aspect that sets Quality Cleaning Service apart is their well-trained and friendly staff. They were punctual, courteous, and respectful of our workspace. They worked discreetly and diligently, allowing us to carry on with our daily operations without any disruptions. Overall, I cannot recommend Quality Cleaning Service of Northwest Ohio enough. Their dedication to providing top-notch commercial cleaning services, their use of eco-friendly practices, and their attentive and professional staff make them a standout choice for any business in need of reliable cleaning services. They have truly become an integral part of our office maintenance, and I look forward to continuing our partnership in the future.
Testimonial #1
Quality Cleaning of Northwest Ohio has truly exceeded my expectations when it comes to professional cleaning services. I've had the pleasure of using their services for both my home and office, and they consistently deliver exceptional results. From the moment I contacted them, their customer service was outstanding. They were prompt in responding to my inquiries, and they took the time to understand my specific cleaning needs. Their team was friendly, professional, and respectful throughout the entire process.
Testimonial #3
What sets Quality Cleaning Service apart is their exceptional staff. Each member of their team is skilled, well-trained, and consistently exhibits a strong work ethic. They arrive promptly and efficiently tackle every cleaning task, leaving our workspace immaculate and inviting. I can confidently say that Quality Cleaning Service of Northwest Ohio has become an invaluable partner in maintaining the cleanliness and hygiene of our commercial space. I highly recommend their services to any business owner in need of top-notch commercial cleaning. They have certainly earned my trust and loyalty.
Testimonial #2
Recent Blog Posts
A clean and well-maintained commercial space is the cornerstone of a successful business. It not only enhances the […]
Tile flooring is a popular choice for its durability, versatility, and aesthetic appeal. However, to keep tile floors […]
Carpets bring warmth, comfort, and style to any space, but over time, they accumulate dirt, stains, and allergens […]