Enhancing the Professional Image of Your Fremont, Ohio Business with Day Porter Services
Most businesses in Fremont, Ohio know the importance of hiring a commercial cleaning service to maintain their work spaces. However, for consistently clean and tidy common areas and impeccable restrooms and break rooms, a day porter service can level up your daily maintenance efforts and enhance your professional image. The impression you give to your staff and customers is important, and a day porter service will take care of daily cleaning duties and any cleaning-related issues that arise throughout the workday.
Immediate Response to Cleaning Needs
Your reputation is important, and a clean and well-maintained space is a big part of how employees and guests feel while they are in your facility. Without a day porter service, spills and other accidents that create a mess will need to be addressed by your employees or left until your next scheduled cleaning service. Neither of these is a desirable outcome. Asking your employees to handle a cleaning situation outside of their duties can create resentment for whoever was tasked to take time away from their job and will often result in a less than ideal result. Waiting for your regular cleaning crew to handle an immediate mess makes your space look poorly maintained, unprofessional, and can create a hazard. With a day porter service, you can swiftly address spills and untidy accidents with little disruption to your work day.
A day porter is there to address any of your cleaning needs as they happen. In a high traffic commercial space, litter and debris can accumulate quickly. A day porter can provide timely attention to these issues, keeping your workspace looking fresh and clean throughout the day.
High-traffic areas, such as waiting rooms, lobbies, restrooms, and break rooms are always a cleaning concern. These areas can quickly go from sparkling clean in the morning to well-used by midday. An untidy, unstocked restroom or break room can be frustrating to both employees and clients. A day porter can provide proactive maintenance of these high-traffic areas. Regular spot checks, replenishing of supplies, and touch-ups as needed will keep all high-traffic areas inviting all day long.
Ensuring a Safe and Secure Environment
A day porter is not only there for cleaning emergencies. When you contract with a day porter, you will have an additional person monitoring and addressing safety hazards throughout the day. Without someone dedicated to this role, potential hazards can go undetected and potentially cause accidents or other undesirable issues. With a day porter there to monitor your facility for hazards, they can be dealt with promptly. Your day porter can keep tabs on the building to maintain a well-lit, clean, and secure premises.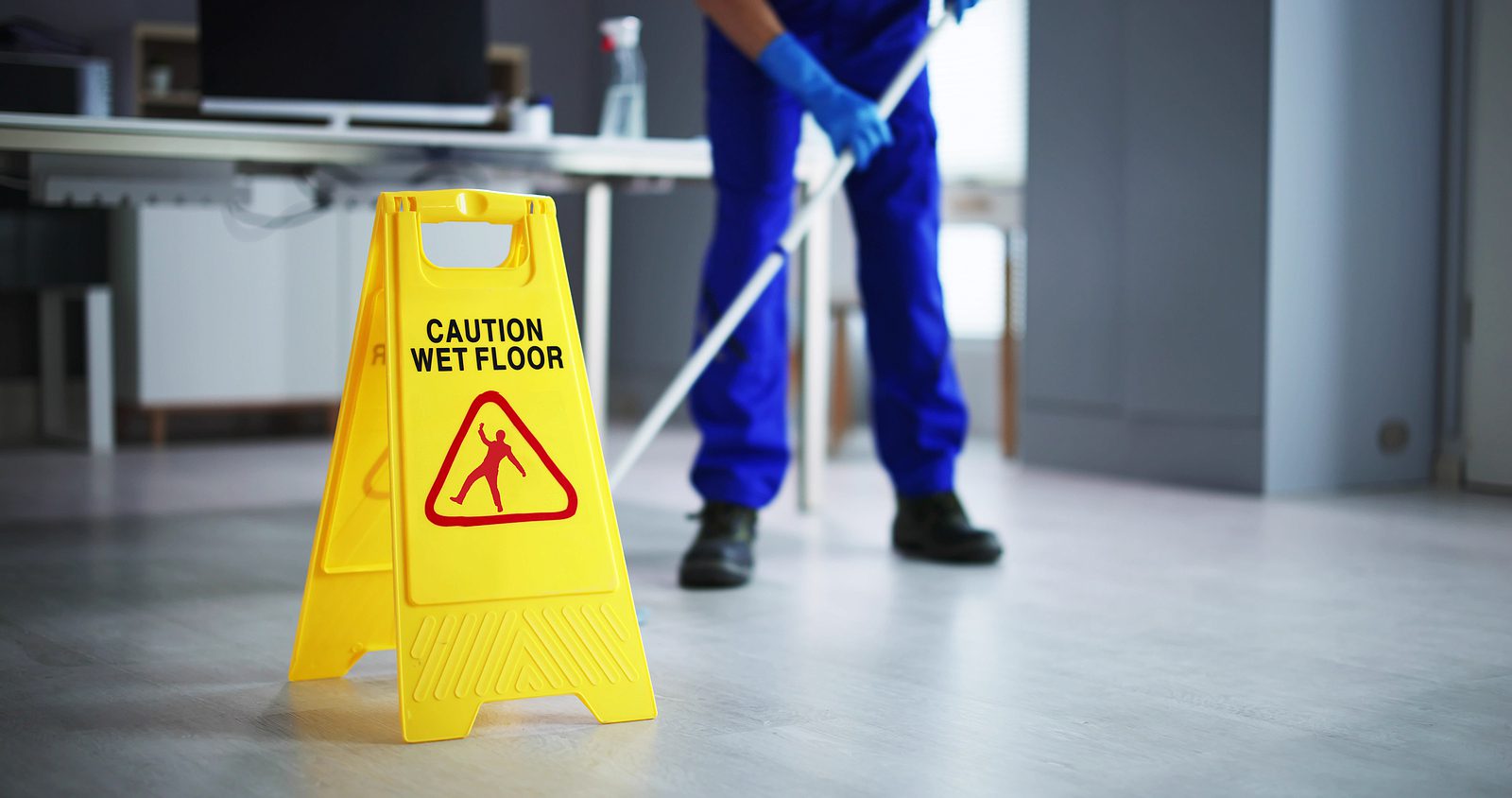 Flexible and Customizable Commercial Cleaning Services in Fremont, Ohio
As a BBB certified business and part of ISN, a safety membership required by some of our valued customers, we're committed to providing excellent commercial cleaning services, just as we have always done since we first opened our doors in 1983. Quality Cleaning Service day porters can be assigned duties tailored to your exact business needs. You may choose to use day porter services during all your operating hours or only during high traffic times in your building. Every business can look at the services offered by our day porters and decide which services they want.
Some businesses in Fremont, Ohio benefit from having a day porter during operating hours, while others want to focus only on special events or occasions, such as full-company meetings, holiday parties, or conferences. In these cases, having a day porter available to assist with these events can make a big difference in the overall success of the event and impression given to clients and customers. We can work with your business to outline exactly what your needs are for each special occasion and can provide you with the right staff.
The consistency you will have with a day porter ensures that your specific commercial cleaning needs can always be met. We take the time to get to know your company to determine exactly what you will need from your day porter and what duties are most important to you and your staff.
Cost Savings and Efficient Resource Allocation
Having a professional day porter as a member of your full-time staff can quickly get expensive. Salary, benefits, coverage during vacations and sick days, and necessary equipment can quickly add up. Hiring a day porter from Quality Cleaning Service eliminates the need for full-time staff and can save you money.
We can provide a day porter in your commercial space for the exact hours you need and will always be able to provide you with someone, even if your scheduled day porter is unavailable. Our consistent and comprehensive training means that you will have someone familiar with your requirements before they are even needed. Every day porter you work with through Quality Cleaning Service will have gone through a background check and comprehensive training for professional, consistent cleaning results every time.
Managing a full commercial space can be overwhelming, even with a regular cleaning service. Having a day porter can assist in maximizing the use of your space. With a day porter to help manage the day-to-day needs, more of the building can be utilized on a daily basis. Having a day porter working in tandem with a regular cleaning crew can also help in reducing equipment and maintenance costs. The entire commercial space can become more efficient when a day porter is in place alongside a regularly scheduled cleaning service.
By leveraging the help of a day porter, you can ensure a clean and presentable workplace throughout the day, enhance productivity by allowing employees to focus on their core tasks, benefit from flexible commercial cleaning support tailored to your Fremont, Ohio business needs, and reduce costs compared to maintaining an in-house cleaning team yourself. Day porter services also ensure compliance with health and safety standards, provide professional expertise in cleaning and maintenance tasks, and save you time. Ultimately, hiring a day porter service helps create a positive and efficient workplace environment.
From stocking restrooms and break rooms, checking on entrances and waiting rooms, and surveying the building for other operational issues and cleaning needs, a day porter can quickly become a valued member of your team. If you are ready to take your Fremont, Ohio building to the next level with day porter services, contact Quality Cleaning Service today.
See What Our Clients Have to Say About Us
Quality Cleaning of Northwest Ohio has truly exceeded my expectations when it comes to professional cleaning services. I've had the pleasure of using their services for both my home and office, and they consistently deliver exceptional results. From the moment I contacted them, their customer service was outstanding. They were prompt in responding to my inquiries, and they took the time to understand my specific cleaning needs. Their team was friendly, professional, and respectful throughout the entire process.
Testimonial #3
What sets Quality Cleaning Service apart is their exceptional staff. Each member of their team is skilled, well-trained, and consistently exhibits a strong work ethic. They arrive promptly and efficiently tackle every cleaning task, leaving our workspace immaculate and inviting. I can confidently say that Quality Cleaning Service of Northwest Ohio has become an invaluable partner in maintaining the cleanliness and hygiene of our commercial space. I highly recommend their services to any business owner in need of top-notch commercial cleaning. They have certainly earned my trust and loyalty.
Testimonial #2
I would like to share my wonderful experience with Quality Cleaning Service of Northwest Ohio for their exceptional commercial cleaning services. As a business owner, maintaining a clean and presentable workplace is of utmost importance to me, and Quality Cleaning Service exceeded my expectations in every way. One thing that truly impressed me was their commitment to using high-quality cleaning products and equipment. They ensured that our office space was not only clean but also safe and healthy for our employees and clients. Their eco-friendly approach and use of non-toxic solutions gave me peace of mind, knowing that we were contributing to a cleaner environment. Another aspect that sets Quality Cleaning Service apart is their well-trained and friendly staff. They were punctual, courteous, and respectful of our workspace. They worked discreetly and diligently, allowing us to carry on with our daily operations without any disruptions. Overall, I cannot recommend Quality Cleaning Service of Northwest Ohio enough. Their dedication to providing top-notch commercial cleaning services, their use of eco-friendly practices, and their attentive and professional staff make them a standout choice for any business in need of reliable cleaning services. They have truly become an integral part of our office maintenance, and I look forward to continuing our partnership in the future.
Testimonial #1
Recent Blog Posts
A clean and well-maintained commercial space is the cornerstone of a successful business. It not only enhances the […]
Tile flooring is a popular choice for its durability, versatility, and aesthetic appeal. However, to keep tile floors […]
Carpets bring warmth, comfort, and style to any space, but over time, they accumulate dirt, stains, and allergens […]