Streamlining Operations with Professional Cleaning Services in Montpelier, Ohio
Maintaining a commercial space in Montpelier, Ohio comes with many responsibilities. To properly manage your facility, you'll put time and effort into regular cleaning and preventative maintenance. When you outsource your cleaning to a professional company like Quality Cleaning Service, you'll streamline this piece of operations.
Outsource Cleaning Responsibilities
Since 1983, we understand that having an in-house cleaning staff or doling out chores to your employees are both less efficient and effective than outsourcing to a commercial cleaning company who has access to the best equipment and products, as well as years of industry expertise and training in best practices. Commercial cleaning providers know the best way to get the job done efficiently and effectively. Our team at Quality Cleaning Service has decades of experience keeping Montpelier, Ohio area businesses looking their best. When you outsource your cleaning responsibilities to us, you'll find that we value our business reputation, and your satisfaction is important to us. We have teams of highly trained employees who understand the best commercial cleaning practices for any commercial space, and we put a lot of care and attention to detail into every job we do.
Long Term Cost Benefits of a Professional Cleaning Service
There are many long-term cost benefits to hiring a professional cleaning service in Montpelier, Ohio. The first is preventative maintenance and preservation of assets. The longer you go without cleaning and maintaining your space, the higher the risk that you will cause permanent damage and need to replace certain assets. For example, if you allow your carpets to go uncleaned, they can quickly develop mold and mildew. Once these set in, they become a significant health risk and will need to be replaced, often at a very high cost. With regular cleaning, you can keep everything in your space well-maintained, negating the need for early replacement. You can also extend the lifespan of equipment with regular cleaning. Dust, dirt, and pollutants can damage equipment over time, which again, will require replacing. With regular commercial cleaning services, the amount of indoor pollutants decreases, which will allow your equipment, furniture, and floors to last much longer, saving you money.

Some businesses will attempt to save money in the budget by forgoing regular cleaning in exchange for deep cleanings several times a year. While this looks like it may save money by cutting down the number of visits, it is often more expensive. A deep cleaning requires much more time and labor, as well as more in-depth processes, making the cost much higher than maintaining a regular cleaning schedule.
When you outsource your commercial cleaning, you are also making better use of your employees. When employees take time from their regular duties to handle cleaning tasks, their productivity and motivation drops. When you outsource your commercial cleaning, you allow your employees to focus on their core duties and in turn make your business more profitable.
Customizable Cleaning Solutions for Any Business Setting
Every Montpelier, Ohio business is unique. While there are common needs across many commercial spaces, there may not be one cleaning solution that is a perfect fit for every business. At Quality Cleaning Service, we are dedicated to providing a customized cleaning solution that fits your business. This can include frequency of cleaning, the rundown of tasks needed for each cleaning, a plan for deep cleaning and occasional jobs, and more. We know that you have a business to run, so we are committed to providing your cleaning in a way that minimizes distraction. Many workplaces opt to have their cleaning services after business hours, while others do like them to take place during the workday. No matter what you choose, we will work with you. We will always take the time to check in and make sure that you are completely satisfied with the quality of our cleaning, the consistency of our work, and the professionalism we demonstrate.
Creating a Clean and Sanitized Workplace Environment
In a post-pandemic world, we are all more focused on maintaining a clean and sanitized workplace. When you have professional cleaning services in your commercial space, the spread of germs is greatly reduced, resulting in healthier employees with fewer absences due to illness. A clean building reduces the spread of germs, but can also improve indoor air quality by removing dust, allergens, mildew, and other indoor air pollutants that can cause respiratory problems. When you have a healthier workplace population with fewer absences, you will have a more productive team.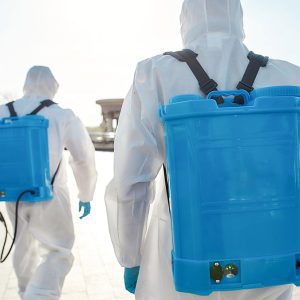 One of the services we offer is our electrostatic cleaning service. This treatment is a touch-free way to disinfect high-touch surfaces, such as restrooms, doorknobs, and communal office equipment. A fine mist of disinfectant with positively charged particles is released onto the surface. Within 10 minutes, the disinfectant has done the job of eliminating bacteria and viruses, and the mist has evaporated, leaving no damage to the surface. Because the mist is charged, it adheres flawlessly and coats the entire surface while using a lower concentration of chemicals. Many schools, food production facilities, and medical facilities are leveraging this service to ensure a sanitized workplace at all times.
Many workplaces have health and safety regulations, and having a commercial cleaning service can ensure that your business is in compliance with these regulations. Regular cleaning can quickly catch potential safety hazards and make sure they are addressed promptly.
There is a lot that goes into operating a Montpelier, Ohio business. Partnering with a commercial cleaning service that is BBB certified and part of ISN, a safety membership required by some of our valued customers, can help streamline the process by taking that piece of management off of your plate. At Quality Cleaning Service, we are dedicated to developing the right professional cleaning plan for your business. During our initial consultation, we will get to know your business and discuss the unique needs and expectations you have for our services. Then we will build the ideal cleaning schedule to meet your needs. Every business needs to provide a clean, safe, professional image, and we can help you maintain it. Contact Quality Cleaning Services to learn more about our reliable commercial cleaning services performed by our outstanding team.
See What Our Clients Have to Say About Us
Quality Cleaning of Northwest Ohio has truly exceeded my expectations when it comes to professional cleaning services. I've had the pleasure of using their services for both my home and office, and they consistently deliver exceptional results. From the moment I contacted them, their customer service was outstanding. They were prompt in responding to my inquiries, and they took the time to understand my specific cleaning needs. Their team was friendly, professional, and respectful throughout the entire process.
Testimonial #3
What sets Quality Cleaning Service apart is their exceptional staff. Each member of their team is skilled, well-trained, and consistently exhibits a strong work ethic. They arrive promptly and efficiently tackle every cleaning task, leaving our workspace immaculate and inviting. I can confidently say that Quality Cleaning Service of Northwest Ohio has become an invaluable partner in maintaining the cleanliness and hygiene of our commercial space. I highly recommend their services to any business owner in need of top-notch commercial cleaning. They have certainly earned my trust and loyalty.
Testimonial #2
I would like to share my wonderful experience with Quality Cleaning Service of Northwest Ohio for their exceptional commercial cleaning services. As a business owner, maintaining a clean and presentable workplace is of utmost importance to me, and Quality Cleaning Service exceeded my expectations in every way. One thing that truly impressed me was their commitment to using high-quality cleaning products and equipment. They ensured that our office space was not only clean but also safe and healthy for our employees and clients. Their eco-friendly approach and use of non-toxic solutions gave me peace of mind, knowing that we were contributing to a cleaner environment. Another aspect that sets Quality Cleaning Service apart is their well-trained and friendly staff. They were punctual, courteous, and respectful of our workspace. They worked discreetly and diligently, allowing us to carry on with our daily operations without any disruptions. Overall, I cannot recommend Quality Cleaning Service of Northwest Ohio enough. Their dedication to providing top-notch commercial cleaning services, their use of eco-friendly practices, and their attentive and professional staff make them a standout choice for any business in need of reliable cleaning services. They have truly become an integral part of our office maintenance, and I look forward to continuing our partnership in the future.
Testimonial #1
Recent Blog Posts
A clean and well-maintained commercial space is the cornerstone of a successful business. It not only enhances the […]
Tile flooring is a popular choice for its durability, versatility, and aesthetic appeal. However, to keep tile floors […]
Carpets bring warmth, comfort, and style to any space, but over time, they accumulate dirt, stains, and allergens […]