There are Health and Safety Benefits to Hiring a Commercial Cleaning Service in Findlay, OH
Hiring a commercial cleaning service in Findlay, Ohio isn't simply about presenting a visually appealing commercial space. In addition to a polished impression, when you hire a commercial cleaning service you also reap the health and safety benefits for both your clients and your employees. In a post-pandemic commercial environment, sanitation and safety are high on the priority list for employees and customers. There are many benefits to hiring a commercial cleaning service in addition to making your workspace safe and clean.
Increased Workplace Health and Safety
A clean and healthy environment for your employees, clients, and visitors should be at the top of your priorities. Vacuuming and emptying garbage isn't enough for a truly clean space. When regular and thorough cleaning is done, the overall atmosphere of the space will become better. Professional cleaning crews are trained to provide a sanitized and germ-free environment.
One of the biggest issues many businesses face has been keeping employees healthy at work. Employees encounter germs through high-touch areas, such as doorknobs, faucets, handrails, elevator buttons, and even the copy machine. With regular sanitation processes from our trained cleaning crew, we can drastically cut down on the germs in your space, reducing the spread of illness. Having healthy employees who don't need to take as many sick days is better for your business.
While it seems obvious that professional cleaning is beneficial for health reasons, there are also safety benefits. A spill on a slick floor, a trip over debris, or an injury from a worn-out carpet or piece of furniture can cost your business. There are health and safety regulations for commercial spaces to uphold, and a professional cleaning crew can help your business stay safe.
Increased Productivity and Employee Satisfaction
Your employees have skills that you need for your business. If you rely on your employees to handle cleaning your commercial space in addition to their regular duties, you are not making good use of their time and your resources. Our cleaning crews have training and experience in cleaning every type of commercial space. They work efficiently, effectively, and thoroughly to keep your space truly clean. This will allow you and your team to focus on your primary business goals and eliminates the need for employees to handle cleaning themselves.
When you invest in a clean, safe, and healthy space, your employees will have improved morale and motivation. When employees feel valued, they are more committed to their employer. Employees who are more satisfied are typically more productive and dedicated to the success of the company, which will benefit any business.
We talked about keeping your employees healthy, but having a healthy staff has benefits that go beyond just a reduction in germs. A reduction in sick days and absenteeism can save your company a significant amount of money. High absenteeism can cause missed deadlines, an increase in the workload of others, the need to hire temporary employees, increased health insurance costs, and more. If the office environment is clean and sanitized, the indoor air quality will be better, the spread of germs will go down, and you will have healthy employees ready to work.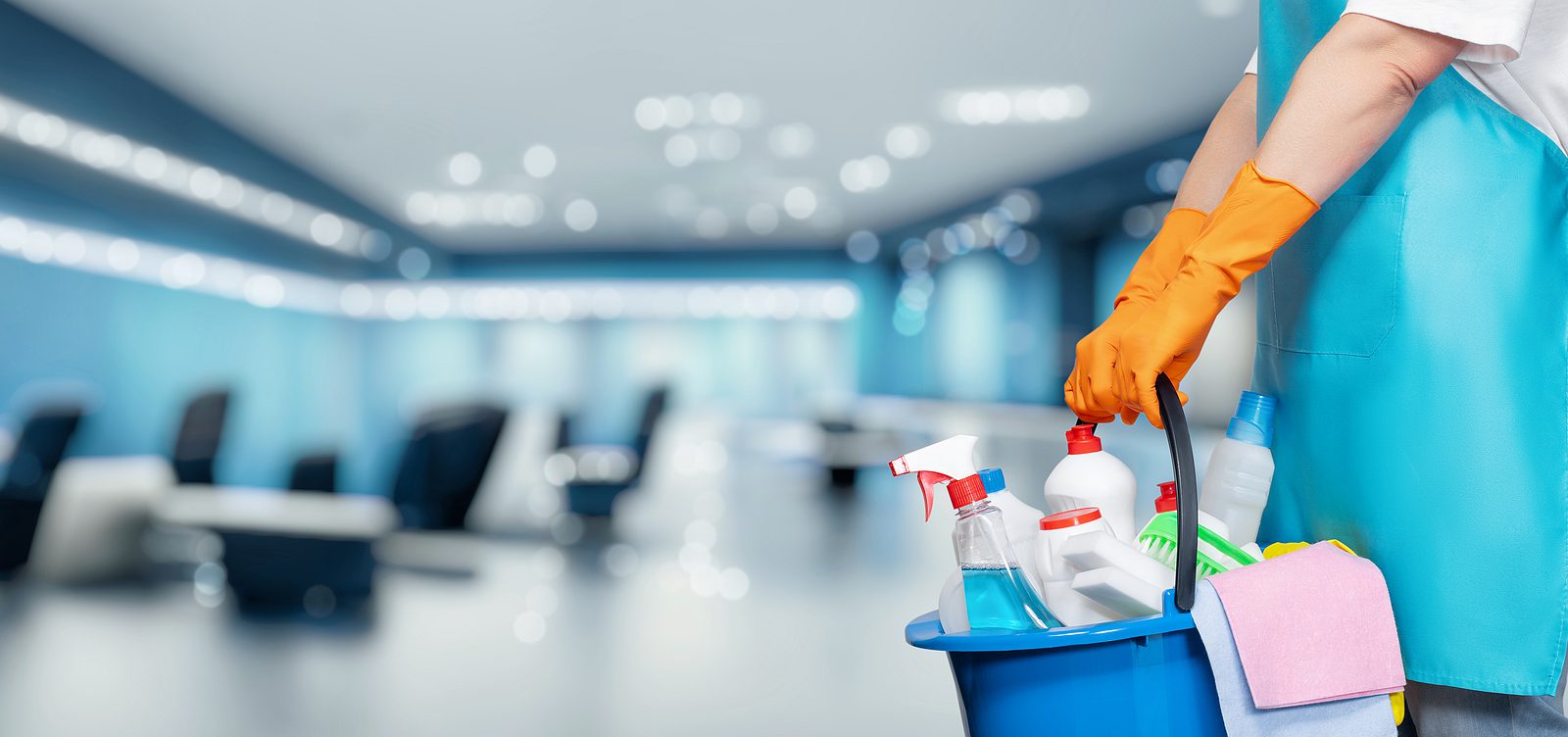 Professional and Efficient Cleaning Services
Quality is important to you, and it is important to us as well. Since 1983, we've continually invested in high-quality equipment, training, and cleaning products so we can produce the best possible results. We are focused on using environmentally friendly, green products whenever possible to reduce our environmental impact and keep the indoor air quality excellent.
All of our crews are highly trained in the best practices in commercial cleaning. In addition to traditional cleaning products and procedures, we offer advanced electrostatic disinfection to eliminate viruses on all surfaces. Food processing plants, hospitals, schools, clinics, and businesses have all found this method to be highly effective. In this no-touch approach, a fine mist is produced and distributed evenly over the surfaces. After ten minutes, the chemical completes the disinfection process and the water evaporates. The positive charge given by the machine allows the mist to stick to neutral and negatively charged surfaces. This process of sanitizing requires fewer chemicals than traditional disinfection procedures.
Although we are well versed in the best cleaning procedures, we know that every business is unique and has their own needs. During our initial consultation, we will work with your business to create a schedule and task list that will best suit your needs. We can provide our services on a flexible schedule, and will always work to be discreet and limit any disruption to your business if we are there during working hours.
Cost Savings and Time Efficiency
Employing an in-house cleaning staff is expensive. Salaries, benefits, equipment, and cleaning products all add up quickly to a big line item in the budget. Hiring a commercial cleaning service eliminates the need for in-house cleaning staff. When you outsource your cleaning, you can allocate those resources more effectively for your business growth. When you outsource to Quality Cleaning Service, you will know that you are getting highly trained, experienced professionals who come with high-quality equipment and products to do the job well.
While anyone can clean, not everyone can clean a commercial space well. If you are paying a cleaning crew an hourly wage, you may not be getting the most efficient work. Our cleaning crews are trained to work efficiently in a streamlined approach to get the job done quickly.. An experienced and professional cleaner can complete all the necessary tasks with a significant time savings. Our decades of experience have taught us how to maximize our time while still getting the highest quality results.
The commercial cleaning service we provide to Findlay, Ohio businesses is always consistent and reliable. As a BBB certified business and part of ISN, a safety membership required by some of our valued customers, we have an excellent reputation in this community and work hard to maintain our status as an industry leader in commercial cleaning services. No matter which crew you have to do your cleaning, you will experience the same level of satisfaction with our service.
When you are ready for a clean, healthy, and safe business environment, schedule your consultation with us so we can develop a plan to meet your needs, schedule, and budget. The return you will see in the health and happiness of your employees and clients will be well worth the investment.
See What Our Clients Have to Say About Us
I would like to share my wonderful experience with Quality Cleaning Service of Northwest Ohio for their exceptional commercial cleaning services. As a business owner, maintaining a clean and presentable workplace is of utmost importance to me, and Quality Cleaning Service exceeded my expectations in every way. One thing that truly impressed me was their commitment to using high-quality cleaning products and equipment. They ensured that our office space was not only clean but also safe and healthy for our employees and clients. Their eco-friendly approach and use of non-toxic solutions gave me peace of mind, knowing that we were contributing to a cleaner environment. Another aspect that sets Quality Cleaning Service apart is their well-trained and friendly staff. They were punctual, courteous, and respectful of our workspace. They worked discreetly and diligently, allowing us to carry on with our daily operations without any disruptions. Overall, I cannot recommend Quality Cleaning Service of Northwest Ohio enough. Their dedication to providing top-notch commercial cleaning services, their use of eco-friendly practices, and their attentive and professional staff make them a standout choice for any business in need of reliable cleaning services. They have truly become an integral part of our office maintenance, and I look forward to continuing our partnership in the future.
Testimonial #1
What sets Quality Cleaning Service apart is their exceptional staff. Each member of their team is skilled, well-trained, and consistently exhibits a strong work ethic. They arrive promptly and efficiently tackle every cleaning task, leaving our workspace immaculate and inviting. I can confidently say that Quality Cleaning Service of Northwest Ohio has become an invaluable partner in maintaining the cleanliness and hygiene of our commercial space. I highly recommend their services to any business owner in need of top-notch commercial cleaning. They have certainly earned my trust and loyalty.
Testimonial #2
Quality Cleaning of Northwest Ohio has truly exceeded my expectations when it comes to professional cleaning services. I've had the pleasure of using their services for both my home and office, and they consistently deliver exceptional results. From the moment I contacted them, their customer service was outstanding. They were prompt in responding to my inquiries, and they took the time to understand my specific cleaning needs. Their team was friendly, professional, and respectful throughout the entire process.
Testimonial #3
Recent Blog Posts
A clean and well-maintained commercial space is the cornerstone of a successful business. It not only enhances the […]
Tile flooring is a popular choice for its durability, versatility, and aesthetic appeal. However, to keep tile floors […]
Carpets bring warmth, comfort, and style to any space, but over time, they accumulate dirt, stains, and allergens […]