Who You Hire to Clean Your Sylvania, Ohio Medical Office or Commercial Business is Important
Keeping your workplace or medical facility in Sylvania, Ohio clean and allergen-free is easy with the help of a reliable commercial cleaning service who has experience in your industry. They've got the skills, top-notch equipment, and eco-friendly cleaning products to deliver impressive results. So, by bringing in the pros, you're not only ensuring a spotless facility, but also creating a healthy environment that's free from any harmful substances. Investing in a commercial cleaning service is like giving your business a solid boost for success and long-term growth.
Special Consideration for Cleaning Medical Facilities in Sylvania, Ohio
When you visit a medical facility, you expect it to be clean. And not only visually clean, but you trust that it will be sanitized. Although medical offices and clinics are places we go hoping to make a positive change in our health, the fact remains that they have a high risk of germ transmission. To keep your patients, business, and employees safe, you need to make sure that you are cleaning your medical facility as efficiently and effectively as possible. One of the best ways to do this is to hire a professional, experienced commercial cleaning service who has a solid local reputation for providing great support.
Professional Cleaning Means Lower Rate of Infection
If your office isn't cleaned and sanitized properly, it puts patients and staff who are already immunocompromised at risk of developing even more dangerous infections. The infections that can linger in medical facilities are often more difficult to treat than those that might be found in other commercial spaces. All the professionals at Quality Cleaning Service are trained in medical office cleaning and understand the importance of medical grade sanitizing. Our employees know how to best eliminate bacteria, pathogens, and viruses in high-touch areas throughout the entire facility. We are trained in trash removal as well as the disposal of hazardous materials. We use the highest quality hospital-grade cleaning solutions in every part of your facility, from the lobby, to the offices, to the procedure rooms.
High-touch areas are always a cause for concern in any facility, but that concern is even greater in a medical facility. We pay special attention to common areas, including waiting rooms and restrooms, to ensure that they are maintained with the same high standards you expect.
Increase Patient and Employee Safety
Professional commercial cleaning services in Sylvania, Ohio will take the proper protocols to handle biohazardous waste materials and will ensure that your medical facility is as safe as possible. The professional crews at Quality Cleaning Service have all been trained in the latest recommendations and procedures for best practices in medical facility cleaning, precautionary safety measures, and infection prevention. A clutter-free and well-organized facility improves overall safety. A commercial cleaning service can assist with keeping your office organized and free from potential germs and hazards.
One of the services we offer is electrostatic cleaning to eliminate viruses on all surfaces. A fast-acting chemical is applied uniformly to all surfaces, even those that are hard to reach. Our machines use a super fine mist, which is delivered in a touch-free spray over surfaces. The positive charge given by the machine allows the disinfectant to attract neutral and negatively charged particles like a magnet. The mist will spread evenly, ensuring 100% coverage. Because the mist is so fine, within 10 minutes the liquid will have evaporated and the chemical will have completed the disinfection process, leaving no damage to the surface. With this method we are able to achieve high levels of disinfectant coverage while using very few chemicals.
Reduction in Cross-Contamination
Inexperienced cleaners who aren't trained in cross-contamination often end up using the same cleaning linens, transferring germs from one surface to another but never truly getting the facility completely clean, even though it may look visually clean on the surface. One of the best benefits to hiring a professional commercial cleaning company in Sylvania, Ohio is their dedication to infection prevention and the use of their medical-grade cleaning products and top-of-the-line equipment. We understand the difference between cleaning something so it looks good visually, and disinfecting it to be free of harmful germs. Many in-house cleaners do not have the supplies or the knowledge to go to the level of cleanliness demanded by medical offices. Basic cleaning products cannot get the job done. By using medical grade cleaning products, there is a much lower instance of cross-contamination. When you use a professional commercial cleaning company, all the cleaning products will be high-grade, and will be sanitized or disposed of properly after each cleaning session. All of our supplies are clean of common pathogens, ensuring that there will be no cross-contamination.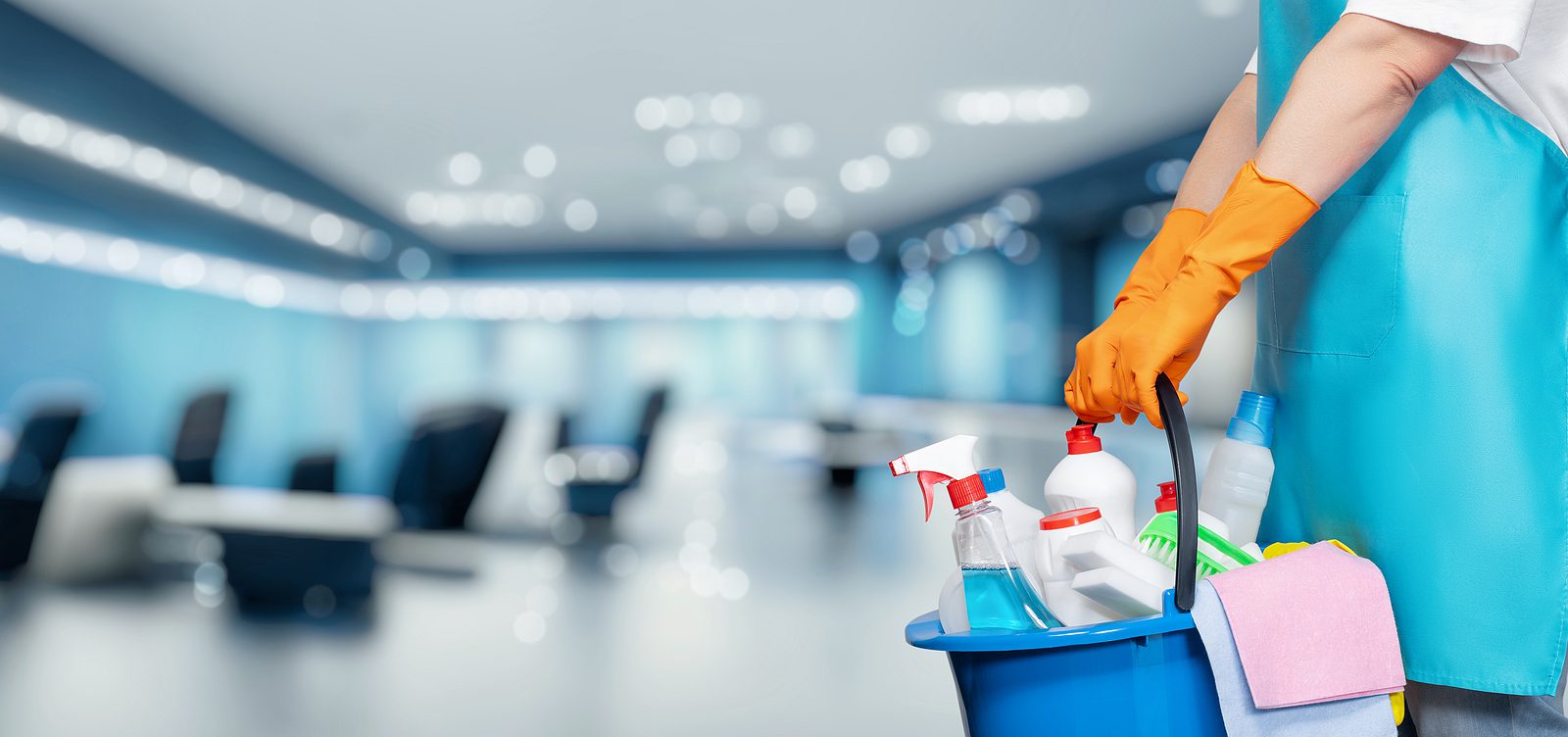 Hiring Professional Commercial Cleaners in Sylvania, Ohio is an Affordable Solution
Many commercial businesses think that outsourcing their cleaning will cost more money, but it will actually keep your overhead costs down in the long run. The cleaning crews at Quality Cleaning Service have all been extensively trained to handle medical offices, which means you will encounter fewer risks of infection. When you compare the cost of outsourcing your cleaning to hiring hourly employees in-house, or having your own staff handle the cleaning, a professional cleaning company is a much better investment. You will not have to incur the costs that come with hiring additional staff, and your current staff will be able to focus on their professional roles. And, as with everything, you get what you pay for. As a BBB certified business and part of ISN, a safety membership required by some of our valued customers, we are confident we can provide the high-quality, reliable commercial cleaning service you are looking for. We value our reputation in Sylvania, Ohio and are committed to keeping high cleaning standards for your facility.
Adhere to CDC Guidelines
The CDC has provided a comprehensive guide for cleaning and disinfecting healthcare facilities. This includes details on training and education, cleaning procedures, approved products, and more. Commercial cleaning services like Quality Cleaning Service are well-versed in these guidelines and will make sure that your facility is adhering to the standards. In addition to regular cleaning services, we offer deep cleaning that will cover every area of your medical facility, including floors, walls, ceilings, and windows.
Cleanliness is crucial in businesses and medical facilities. Your patients and employees trust that your office will be a safe space to prevent the spread of illness and infection. Nobody wants to walk into a medical facility and feel uncomfortable with the cleanliness. A facility that looks poorly maintained can give the impression of poor care or unsafe conditions. When you partner with a commercial cleaning company in Sylvania, Ohio, you can ensure that your medical facility will leave a positive impression on your patients, and will keep everyone who passes through your facility safe. To learn more about how we can help keep your business clean and sanitized, contact Quality Cleaning Service today.
See What Our Clients Have to Say About Us
What sets Quality Cleaning Service apart is their exceptional staff. Each member of their team is skilled, well-trained, and consistently exhibits a strong work ethic. They arrive promptly and efficiently tackle every cleaning task, leaving our workspace immaculate and inviting. I can confidently say that Quality Cleaning Service of Northwest Ohio has become an invaluable partner in maintaining the cleanliness and hygiene of our commercial space. I highly recommend their services to any business owner in need of top-notch commercial cleaning. They have certainly earned my trust and loyalty.
Testimonial #2
I would like to share my wonderful experience with Quality Cleaning Service of Northwest Ohio for their exceptional commercial cleaning services. As a business owner, maintaining a clean and presentable workplace is of utmost importance to me, and Quality Cleaning Service exceeded my expectations in every way. One thing that truly impressed me was their commitment to using high-quality cleaning products and equipment. They ensured that our office space was not only clean but also safe and healthy for our employees and clients. Their eco-friendly approach and use of non-toxic solutions gave me peace of mind, knowing that we were contributing to a cleaner environment. Another aspect that sets Quality Cleaning Service apart is their well-trained and friendly staff. They were punctual, courteous, and respectful of our workspace. They worked discreetly and diligently, allowing us to carry on with our daily operations without any disruptions. Overall, I cannot recommend Quality Cleaning Service of Northwest Ohio enough. Their dedication to providing top-notch commercial cleaning services, their use of eco-friendly practices, and their attentive and professional staff make them a standout choice for any business in need of reliable cleaning services. They have truly become an integral part of our office maintenance, and I look forward to continuing our partnership in the future.
Testimonial #1
Quality Cleaning of Northwest Ohio has truly exceeded my expectations when it comes to professional cleaning services. I've had the pleasure of using their services for both my home and office, and they consistently deliver exceptional results. From the moment I contacted them, their customer service was outstanding. They were prompt in responding to my inquiries, and they took the time to understand my specific cleaning needs. Their team was friendly, professional, and respectful throughout the entire process.
Testimonial #3
Recent Blog Posts
A clean and well-maintained commercial space is the cornerstone of a successful business. It not only enhances the […]
Tile flooring is a popular choice for its durability, versatility, and aesthetic appeal. However, to keep tile floors […]
Carpets bring warmth, comfort, and style to any space, but over time, they accumulate dirt, stains, and allergens […]